JACAR Newsletter Number 37
March 31, 2022
Report
JACAR Online Seminar (1st) Held
The Japan Center for Asian Historical Records (hereafter JACAR) held the first JACAR Seminar online via Zoom on February 7, 2022 (Monday, from 2:30 p.m. to 4:00 p.m. The topic was on how to use the JACAR website. The event was for everyone from beginners to heavy users, and more than 60 people signed in to watch.
As part of our public outreach efforts, JACAR has offered training sessions on how to use the JACAR website for university classes and academic conferences.We have held sessions for such institutions as the University of Tokyo, the University of Tsukuba, Tokyo Institute of Technology, Yokohama National University, Meiji University, Doshisha University, the Association for Studies of Chinese Society and Culture (Tokyo), and the Japanese Association for Contemporary Historical Studies. The audience for these events have ranged from undergraduates planning to make use of JACAR to researchers who already use JACAR on a regular basis. The sessions have focused on providing hints about how to use our website and how to search it more efficiently.
However, since 2020 because of the Covid-19 pandemic, most universities and academic conferences have switched their activities to online. This has made it difficult to send our staff directly to a university to give a presentation.
Under these circumstances, the symposium held in November 2021 to mark the 20th anniversary of JACAR took place online. It was very well-attended. In light of this experience, and also in light of the prospect that the pandemic will continue for some time, it was decided that JACAR will conduct its public outreach work online. This "JACAR Seminar" was the first project we planned in this vein.
The 1st JACAR Seminar was conducted by JACAR Researcher Dr. Nakano Ryo Dr. Nakano used a PowerPoint presentation to demonstrate the use of the JACAR website. First, for beginners, he explained basic ways of using the JACAR website, based on a workflow that began with a keyword search and ended with browsing images. Based on this, Dr. Nakano then went into more advanced usage methods, such as how to customize keyword searches, the website's dictionary function, and ways to make the most of the JACAR Glossary and web content.
The presentation was followed by a question-and-answer session. The questions asked covered a broad spectrum of topics, ranging from website search hints to more technical matters such as how JACAR makes public the materials on its website. The question and answer session reaffirmed the depth and breadth of the interests of the people who use the JACAR website.
Video of the event has been posted to JACAR's official YouTube channel. https://www.youtube.com/watch?v=mH9Yd7lAPFM Those of you who were unable to attend the event, as well as those of you who did attend and wish to refresh your memories, are encouraged to view it there.
Thanks to everyone who participated, this 1st online JACAR Seminar—coming after our 20th Anniversary Symposium that was also held online—was a success. We thank you again for your interest and support. We are considering further online events like this on a regular basis. We hope that you will participate again in the future.
Also, on the matter of dispatching speakers to give talks in such venues as university classes, our basic plan at the moment is to do so via internet-based means. If you have any specific requests, please feel free to send a message to our contact email address.
REFERENCE
●JACAR Seminar Program

Date: February 7, 2022 (Monday), 2:30 p.m. to 4:00 p.m.
Speaker: Nakano Ryo, Researcher
Details: (1) The kinds of records that can viewed through JACAR; (2) Effective search methods; (3) Usage of various site-based resources such as the glossary; (4) Q&A session



Video of the JACAR Seminar (JACAR YouTube channel)(Japanese only)
〈https://www.youtube.com/watch?v=mH9Yd7lAPFM〉
Japan Center for Asian Historical Records contact email: jacar_enquire@archives.go.jp
JACAR Director-General Hatano Sumio video interview released
Japan Center for Asian Historical Records (JACAR) celebrated the 20th anniversary in November of 2021. As a 20th anniversary project, JACAR produced a video interview with Director-General Hatano Sumio.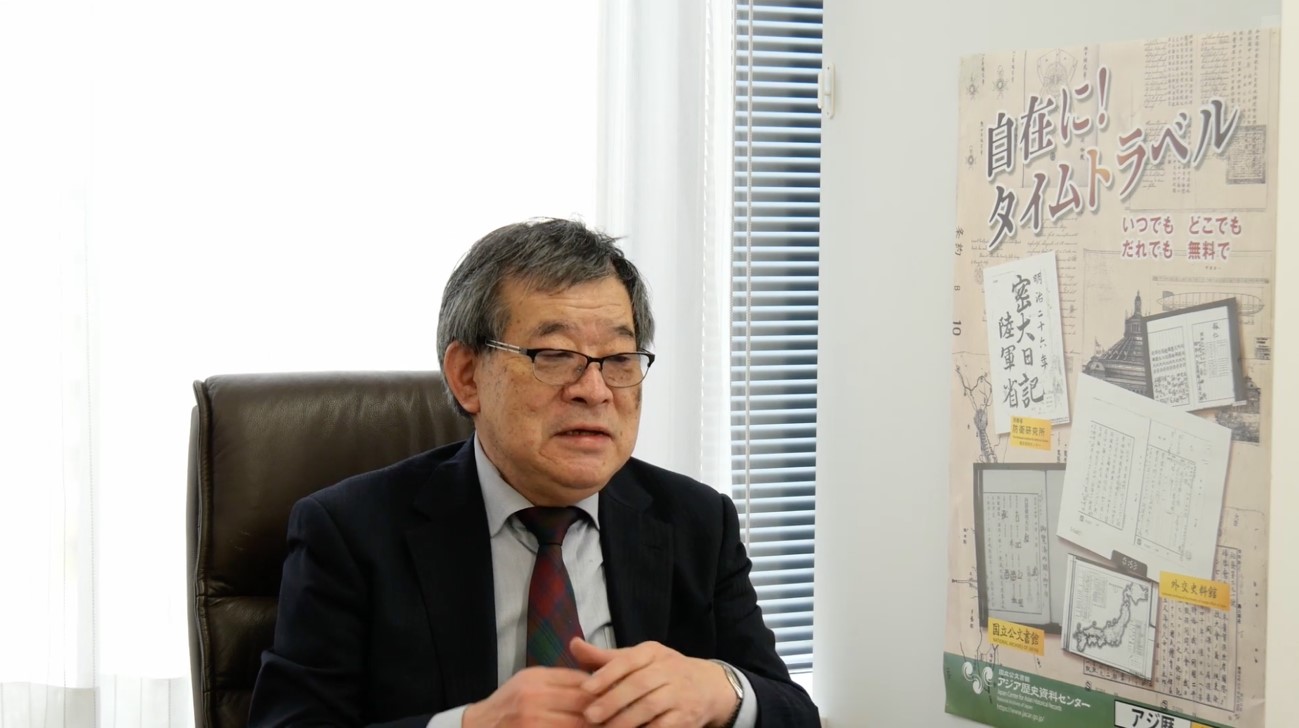 In the interview, Dr. Hatano reflected on the historic background behind the creation of JACAR. He also discussed the mission and the role of JACAR as well as future challenges facing JACAR.
The production and editing of the video was carried out entirely by JACAR staff. Thank you in advance for your kind attention.
JACAR Director-General Hatano Sumio video interview (Japanese only)
〈URL:https://www.youtube.com/watch?v=AKFMIFcFl8o〉